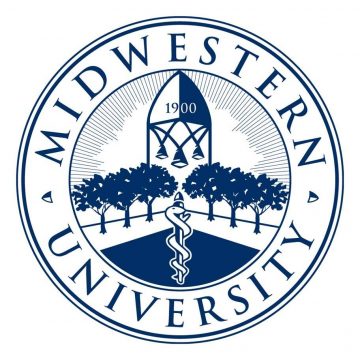 Midwestern University
The Director of Admissions at Midwestern University offers a unique opportunity for an individual to bring innovative and thought-provoking leadership to the admissions operations of a distinguished and leading healthcare university. Reporting directly to the Senior Vice President and Chief Academic Officer, the Director of Admissions is chiefly responsible for establishing and achieving the university's recruitment, enrollment, and retention goals, and overseeing the Admissions Office operations. The Director of Admissions plays a critical role in advancing the university's standing by implementing creative, and impactful solutions that yields a highly qualified, motivated, and diverse student population.
Essential Duties and Responsibilities
Oversee the planning, development, and implementation of a strategic admissions plan that meets the university's recruitment goals.
Collaborate with Marketing and other senior leaders to create innovative and impactful solutions that attract prospective students.
Serve as the internal leader for the Admissions Office staff and an external voice for the value of a Midwestern University degree, being sure to reinforce the university's vision and osteopathic philosophy.
Collaborate with the Student Services department in establishing an inclusive admissions experience from orientation through graduation, including advising students throughout the enrollment/admissions process.
Leverage and analyze admissions data to make informed decisions that leads to an increase in student applications, and admission yields.
Oversee and assist with processing applications, making process improvements when necessary.
Work with Admissions staff to prepare and coordinate Interview day.
Plan and organize admissions events and receptions for prospective students and families.
Generate admissions reports and provide subject matter expertise on report findings with senior leaders.
Oversee all aspects of Admissions Office staffing including, hiring, training, developing, supervising, mentoring, and evaluating staff.
Manage the budget for the Admissions Office, ensuring department staff follows all university policies and procedures.
Stay abreast of new institutional policies and current higher education trends in enrollment and admissions.
Collaborate with the admissions department of the Glendale, Arizona campus to establish and maintain unified processes, reports and procedures.
Collaborate with the admissions department of the Glendale, Arizona campus to conduct local and national recruitment for all University programs.
Perform other duties as assigned.
Supervisory Responsibilities
This position directly supervises the Assistant Director, Admissions Counselors, and Sr. Admissions Counselors.
Qualifications
To perform this job successfully, an individual must be able to perform each essential duty satisfactorily. The requirements listed below are representative of the knowledge, skill, and/or ability required. The individual must be able to work in a constant state of alertness and safe manner and have regular, predictable, in-person attendance. Reasonable accommodations may be made to enable individuals with disabilities to perform the essential functions.
Education and/or Experience
Bachelor's degree from an accredited institution and 7-10 years of progressive experience in admissions required; Master's degree preferred. Previous experience supervising or leading a team required. The ideal candidate will have creative and innovative ideas to lead a dynamic Admissions Office team and be able to bring a data and technology driven approach to student recruitment. Must have excellent verbal and written communication skills, and proven experience presenting in front of large or small groups. Strong analytical skills, and the ability to use data to make informed decisions.
Computer Skills
Computer proficiency in MS Office (Word, Excel, Power Point, PowerPoint, Outlook) required.
Physical Demands
The physical demands described here are representative of those that must be met by an employee to successfully perform the essential functions of this job. Reasonable accommodations may be made to enable individuals with disabilities to perform the essential functions.
While performing the duties of this job, the employee is regularly required to walk; stand; sit; reach with hands and arms. The employee is frequently required to use hands to finger, handle, or feel; talk and hear. The employee must occasionally lift and/or move up to 10 pounds, regularly lift and /or move up to 25 pounds and occasionally lift and/or move up to 50 pounds. Specific vision abilities required by this job include close, distance and peripheral vision.
Midwestern University is an Equal Opportunity/Affirmative Action employer that does not discriminate against an employee or applicant based upon race; color; religion; creed; national origin or ancestry; ethnicity; sex (including pregnancy); gender (including gender expressions, gender identity; and sexual orientation); marital status; age; disability; citizenship; past, current, or prospective service in the uniformed services; genetic information; or any other protected class, in accord with all federal, state and local laws, including 41 C.F.R. 60-1.4(a), 250.5(a), 300.5(a) and 741.5(a). Midwestern University complies with the Smoke-Free Arizona Act (A.R.S. 36-601.01) and the Smoke Free Illinois Act (410 ILCS 82/). Midwestern University complies with the Illinois Equal Pay Act of 2003 and Arizona Equal Pay Acts.
Qualifications
Education
Required
Bachelors or better.
Experience
Required
Previous supervisory experience.
7-10 years: Progressive admissions experience.
Job Traveling :
None