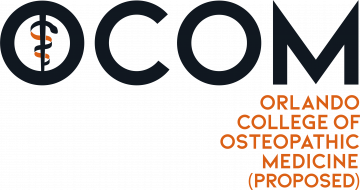 OCOM (proposed)
POSITION DESCRIPTION:
The Registrar at Orlando College of Osteopathic Medicine (OCOM) will provide professional oversight to the Records and Registration process, as well as leadership, direction and support for relevant student efforts.
Additional background on OCOM:
1. Mission: https://ocom.org
2. Curriculum (including rotational curriculum): https://ocom.org/curriculum
3. Strategic Plan: https://ocom.org/stategicplan
4. Link to currently credentialed clinical faculty/preceptors: https://ocom.org/clinical-faculty
5. OCOM Policies: https://ocom.org/policies
SPECIFIC RESPONSIBILITIES:
Maintain all official student documentation, including transcripts, test scores, immunization, and health forms, etc.
Collect and certify that documents are official and within guidelines for accreditation.
Certify enrollment of students for scholarships, insurance agencies, and other constituencies in line with confidentiality guidelines.
Create rosters, collect grades from faculty and or LMS, and produce transcripts.
Maintain an OCOM-selected database of student information, create reports and export data for official reports.
Work with the Office of the Dean regarding student Dean's letters and assist students with the ERAS system and process.
Serve on committees to represent registration and records.
Assist other student service areas such as admissions and financial aid.
Serve as liaison for OCOM with state, government and health agencies, etc.
Obtain and maintain literacy in the registration and records student service areas.
Become familiar with and adhere to College policies and FERPA guidelines.
Assisting with the planning and implementation of Commencement and White Coat ceremonies.
Other duties as assigned.
SUPERVISORY RESPONSIBILITIES: None
Requirements
QUALIFICATION(S):
Previous experience in Osteopathic or Allopathic Medical College Registrar is preferred.
Bachelors' degree or higher and a minimum of 5 years of full time experience in the administration of records/registrar office.
SKILLS AND ABILITIES
Strong oral and written communication skills are required.
Exceptional interpersonal skills in order to work well with all levels of administration.
Ability to maintain confidentiality and attention to detail are essential.
Ability to respond calmly and appropriately in emotional situations.
Ability to listen and communicate in a positive manner.
Must be proficient in word processing and computer usage experience.
Ability to collaborate and interact with healthcare professionals.
Ability to organize, direct, and prioritize work appropriately.
Ability to manage time well and work under stressful conditions with an even temperament.
The ability to demonstrate tact, courtesy and discretion in dealing with faculty, staff, students, high-level university officials and the public.
Ability to work independently as well as function effectively in a team and within a diverse group of people.
Ability to exercise independent judgments in complex and new situations.
Ability to manage multiple, concurrent projects, and still meet strict deadlines.
Detail-oriented and willing to work in a changing environment including researching new ways of accomplishing tasks, participating in training sessions, and being a self-starter and a team player, and willingness to assist in other areas as needed.
Must have the ability to relate well with a diverse student population and other constituencies.
Ability to maintain a high energy level and enthusiasm for OCOM.
Ability to respond to difficult situations calmly and with credibility.
Complexity of Duties:
Complexity of duties will be commensurate with level of experience.
Types of Contacts:
This individual will have daily interactions with OCOM faculty (on-campus and off-campus), staff, and medical students. Heavy telephone and email usage apply.
Decision-Making:
This individual will provide guidance and instruction within as well as outside the College setting.
Physical Demands:
Incorporated within one (1) or more of the previously mentioned essential functions of this job description are essential physical requirements. The ratings in the chart below indicate the percentage of time spent on each of the essential physical requirements.
Seldom—Less than 25 percent = 1 Often—51-75 percent = 3
Occasional—25-50 percent = 2 Very Frequent—76 percent and above = 4
Ratings
Essential Physical Requirements
4
Ability to work at a desk, conference table or in meetings of various configurations.
2
Ability to stand for extended periods of time.
4
Ability to sit for extended periods of time.
4
Ability to see for purposes of reading printed matter.
3
Ability to hear and understand speech at normal levels.
3
Ability to communicate so others will be able to clearly understand a normal conversation.
3
Ability to lift up to 25 lbs.
3
Ability to carry up to 25 lbs.
2
Ability to operate office and presentation equipment.
Mental Demands: (complexity of duties, decision-making responsibilities, etc.)
Ability to understand oral and written information and organize thoughts and ideas into effective forms of communication.
Ability to make decisions which range from moderate to a significant impact on the immediate work environment, as well as outside contributors.
Other Information:
Requires attendance at events within as well as outside of the College setting.

Job Traveling :
None