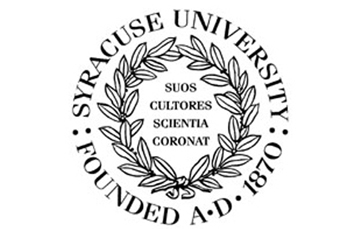 Syracuse University
University Registrar
Syracuse University
Job Description
The University Registrar is the senior leader in the Office of the Registrar, reporting to the Associate Provost for Academic Affairs. This position supports the academic enterprise through the stewardship of all student records, curriculum records and scheduling of academic space, by advancing academic initiatives and creating an administrative structure that supports student success while maintaining a focus on student service. This position is responsible for the integrity and accuracy of the student academic records and serves as the campus compliance officer for FERPA. The University Registrar is a highly collaborative campus leader, capable of building consensus across a diverse set of stakeholder groups.
Responsibilities
Lead the staff and operations of the Office of the University Registrar, including academic records and regulations, registration, grading, degree and enrollment verification, transfer student records management, transcripts, diplomas, class and classroom scheduling, and the Course Catalogs. Coordinate curricular work with the University Senate.
Envision, develop, and lead major development and change initiatives involving people, policies, practices, data, and systems. Provide strategic input and develop recommendations for the implementation of related technology applications in support of enhanced services for students, faculty and staff.
Provide leadership in implementing and enforcing the University's policies and protocols regarding the use, dissemination, integrity, security and privacy of student information, and applicable federal and state laws and regulations, including FERPA.
Audit, maintain, and guarantee the integrity of all academic records.
Review, revise, and control departmental budgets; recommend staffing and salary changes to the provost's office.
Establish and implement strategic and operational plans for ongoing improvements in efficiency, effectiveness of operations, professional development for staff, and services and support.
Qualifications
Master's degree and a minimum of five years of related professional experience.
Effective leadership and managerial skills, particularly communication, conflict resolution, negotiation, and change management.
Systems thinking, including the capability to imagine new and modified systems of people, data, and technology.
Prior knowledge of enterprise data systems, preferably including PeopleSoft, and preferably in the context of higher education.
Tolerance for ambiguity and the related ability to collaborate, persuade, and implement in a complex, decentralized university environment.
Please apply at https://www.sujobopps.com job #036666 and attach a cover letter and resume. Syracuse University is an equal-opportunity, affirmative-action institution. The University prohibits discrimination and harassment based on race, color, creed, religion, sex, gender, national origin, citizenship, ethnicity, marital status, age, disability, sexual orientation, gender identity and gender expression, veteran status, or any other status protected by applicable law to the extent prohibited by law. This nondiscrimination policy covers admissions, employment, and access to and treatment in University programs, services, and activities.
Job Traveling :
None